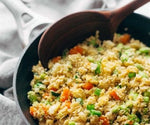 Servings: 4

Ingredients

1 large cauliflower.
1 tbsp oil.
2 cloves garlic chopped finely.
1 large onion chopped finely.  
1 tsp spring onions.  
1/4 cup carrots chopped finely.  
1/2 cup OOB frozen Sweetcorn.  
1 cup OOB frozen garden pea.
1 tbsp sesame oil.
1/4 cup soy sauce

Method

In a high-speed blender or food processor, add your chopped cauliflower and pulse until a rice-like consistency.
In a large wok or frying pan, add your oil and place over medium heat. Once hot, add your onions and garlic and fry for 1-2 minutes, before adding your carrots, frozen corn, frozen peas, and riced cauliflower.
Cook for 3-4 minutes, until softened.
Add the sesame oil. Mix through the vegetables.
Add the soy sauce stir fry for 1-2 minutes, before removing the pan off the heat.